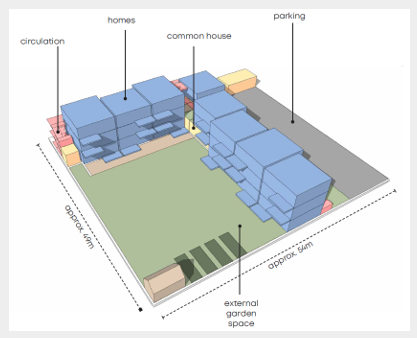 The last year has been busy trying to move forwards with sites, sorting our finances out & clarifying our prospectus and business plans.
We are still holding our meetings on Zoom as this has been more convenient for some members. The need for extra ventilation & outdoor meetings has sometimes proved too challenging for some members! Nevertheless smaller work groups are often meeting face-to-face.
We've just hosted another meeting (Zoom) for people who have contacted us recently. We're hoping to attract more new members soon as our search for a suitable site has taken a few steps forward.
Other developments have included a prospectus which is now completed and ready to send to prospective partners (building and financial). Also the Business Plan is in its final draft – also for prospective partners.
At the moment we are actively pursuing a couple of sites that we are interested in, which is very exciting, rather daunting, quite time-consuming and not straightforward; Covid absences, end-of-year holidays and changes in personnel contribute to the juggling act.
Added to that, life continues with MUCH members with health issues, cycling accidents, family complications and home maintenance work all being stirred into the mixture.
In an attempt to update and modernise our approach to advertising for members, we have agreed to work with our local University – I'm not sure whether it's MUCH members or the students who will learn the most!
Whatever happens, 2022 looks as if it will be an interesting year for us.